An interesting snippet here from GOLF Magazine.
"There will always be sand-baggers and vanity-caps, handicaps that travel better or worse than others. But with plans in the works for a universal handicap system, one that applies to every golfer on the globe, there will be far fewer of all those unwanted things."
Anyone out there familiar with "Universal Handicaps" ?
It's an adjustment coming our way in 2020 to the system the world of golf has used forever – it seems.
That's where the comment above came from – an article speaking to the nuances associated with Universal Handicaps.
"We want to make the right decisions now to encourage a more welcoming and social game," said Mike Davis, CEO of the United States Golf Association.
"We're excited to be taking another important step – along with modernizing golf's Rules – to provide a pathway into the sport, making golf easier to understand and more approachable and enjoyable for everyone to play.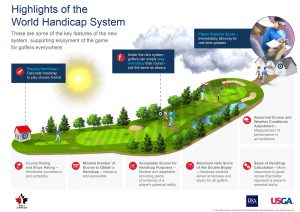 "For some time, we've heard golfers say, 'I'm not good enough to have a handicap,' or 'I don't play enough to have a handicap," Davis added.
The current handicap system, despite some warts, is all we've had to work with.
Subsequently, I think it has always been important to simply make the best of it.
Again, it's all we've had to utilize over the years.
And it got me to  thinking…
Your buddy, a ten-handicap, plays 150 rounds a year – 125 of those at his home course.
Your other buddy is also a ten-handicap. He has a few favourite courses but is not a member anywhere and tees it up about 100 times a year at 80 different courses.
Who do you think is the better player?
Some food for thought.
Fore!!