When I took a stab at this project last fall for publication in the Kelowna Daily Courier, it was both an exciting and unenviable task.
The variety of golf courses throughout the Okanagan Valley create a golfer's paradise. The length of the season is a boon for locals and tourists.
Indeed, I could write about the "50 Best Holes"! There are that many!
Note that all yardages provided are "from the tips", yet each of these holes is designed with tee decks that effectively take some of the bite out of the long-distance challenges.
FORE!!
Gallagher's Canyon, Kelowna (#1: par-4, 434 yards)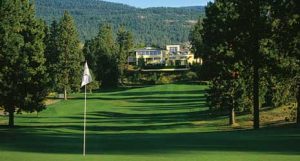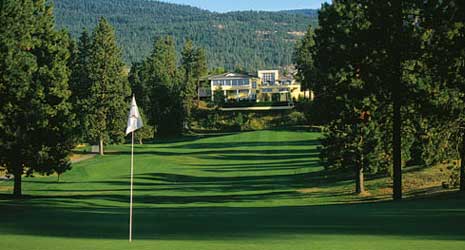 You arrive in such a peaceful setting here, an historic layout in a quiet, residential setting. After a quick warmup, you may be summoned to the roof top. Yes, the roof top! It is indeed one of the coolest shots a player will strike while enjoying golf in the Okanagan Valley. For those not immune to first-tee jitters, be advised you will likely have a captive audience on hand, as the patrons in the restaurant and on its patio can almost reach out and touch you as you tee off. Successfully execute your drive into the narrow-ish fairway and the elevated green requires a demanding, skillful approach. Welcome to Gallagher's Canyon!
Fairview Mountain, Oliver (#18: par-4, 468 yards)
One of the most deceiving, long par-4's in the region, Fairview Mountain's final hole is a treat to tackle. The elevated tee may help your drive to carry a few yards further than normal, but the second shot will require your complete attention. From the fairway, the two-tiered green is slightly uphill, requiring a smart decision at your bag before giving your approach the full treatment. Avoiding the greenside bunkers is vital. A few subtle breaks on the green may surprise players and putts from back to front will move with some pace. A "4" is a great score.
Okanagan Club – Quail Course, Kelowna (#18: par-4, 408 yards)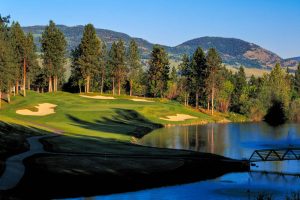 When designing a finishing hole, demanding precision should always be a key factor. What better way to complete a round, striking two solid shots on a scenic hole that ends on one of the region's most challenging putting surfaces. At the Quail's tricky finale, distance control and accuracy are crucial from the tee, regardless which tee deck players use. And even from the centre of the fairway, the forced carry over water to the two-tiered green will give you pause to consider what fate has in store. Play the Quail's 18th in four shots and you are sure to notice a beverage after play will taste just a little bit sweeter. Interestingly, this hole has been "in the news" of late, as there are apparently plans at the Okanagan GC for a re-design t o allow for further real estate development. Stay tuned!
Predator Ridge – Ridge Course, Vernon (#6: par-3, 244 yards)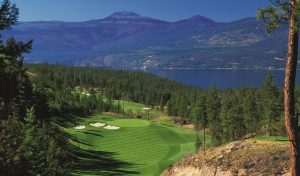 A beast from the tips, this par-3 is softened by tee decks that make it much more playable from shorter distances. Tee shots played left-centre will generally feed toward the green, a design-feature referred to by some as "containment". A pair of greenside bunkers might get into your head and remember that nothing good happens if you hit your tee ball over the green. Best to just focus on making solid contact. The location on the property affords even more fantastic views of Okanagan Lake and don't forget to try a scrumptious hot dog from the nearby Outlook Cabin.
Tower Ranch GC, Kelowna (#17: par-5, 583 yards)
The penultimate hole at Tower Ranch epitomizes just about everything the designers envisioned. A wide, forgiving fairway, jagged bunkering, contoured greens and a commitment to providing incredibly scenic views of all things Kelowna. In fact, as traffic at Kelowna International Airport buzzes around below, golfers can see all the way down Okanagan Lake to Peachland on a clear day. The 17th is a true three-shot par-5, where keeping your ball in play is the key. The green is slightly elevated and its surface slopes from back to front. It is assuredly a strong and demanding hole, by design of course, but perhaps also in large part due to the pleasantly distracting views.
Black Mountain GC, Kelowna (#11: par-3, 182 yards)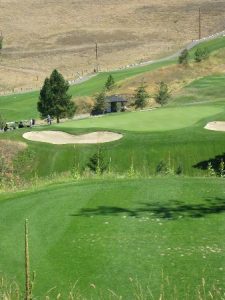 Take dead aim! The 11th at Black Mountain is one of those par-3 holes where your club selection is vital. Downhill from the tee decks, golfers launching well-struck short irons will seemingly watch their golf ball hang in the air for minutes. This par-3 plays short enough for golfers to approach it aggressively, yet pin placements can be tucked far right or far left to add just a hint of trepidation. If you play on a day with a centre-cut pin, bear down and think birdie! Of the six par-3's on the sporty Black Mountain layout, the 11th is definitely a green light special. Go for it! Black Mountain burst on to the Kelowna golf scene a few years ago and these days, Russ Latimer, Tyrel Griffith and the entire team continue to provide a fun vibe!
Shannon Lake Golf Club, West Kelowna (#8: par-4, 405 yards)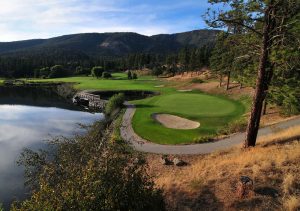 When the powers-that-be chose to build a nifty new tee deck along the bank of Shannon Lake about a decade ago, the eighth hole was transformed into a most scenic but treacherous par-4. The idea here is to ensure you keep your ball dry, even if that lands you in a fairway bunker. The approach shot produces yet another adventure, as a large pond protects access to the green. Optical confusion reigns supreme here, as players will often over-club to avoid the water without realizing the huge putting surface is slightly downhill from the 150-yard mark. Chips shots from behind the green require plenty of imagination. I spent 10 seasons as a member of the management team at Shannon Lake Golf Club…plenty of good times and of course, a few crummy experiences such as the clubhouse fire in May, 2013. New superintendent Chad DeGroot, now in his third season, has successfully transformed this "beast" of a project into a very well-conditioned layout. 
The Harvest, Kelowna (#7: par-4, 426 yards)
Every golf course seems to present that one distinct hole golfers simply cannot forget. At The Harvest, the sneaky 7th has been the cause of many a raised eyebrow. The sharp dogleg left will not intimidate with length and some long hitters might choose to play aggressively, cutting the corner to produce a shorter approach. But rest assured, the fun begins with an uphill second shot at the two-tiered green. Club selection and distance control are crucial. It is important to accurately determine the pin placement, as downhill putts to a hole cut in the front can tie you in knots. However, while you're up there, grab an apple and enjoy the valley-wide views! Head professional Bruce Vermee, now in his third season,  has injected some personality and panache into the facility. Teaching professional Sean Richardson continues to provide outstanding instruction programs.
The Rise GC, Vernon (#15: par-4, 415 yards)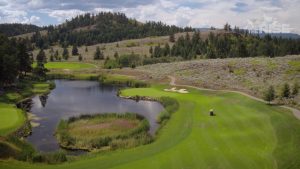 The drive up to The Rise Golf Club seems to take you to the top of the world, Okanagan -style! When you arrive, and this robust layout unveils itself, it is important to take some time to marvel at the panoramic views. Rumour has it there is a "healing tree" near the property and at times, it might come in handy for exasperated golfers. At the 15th, a couple of perfect shots are the tonic – that's all! Choose a club that guarantees you can keep it in play off the tee, then make certain you are completely dialed in for your approach shot to the layout's version of an island green. It's a spectacular par-4. A memory-maker! (Editor's Note: this hole was originally #15, but is now played as #6 on the front nine.)
Summerland G&CC, Summerland (#18: par-5, 522 yards)
This sweeping dogleg is all about temptation – just how closely do you want to hug the right side of the fairway to find the shortest route to the green? Out of bounds looms large, while awe-inspiring views of Trout Creek Canyon might cause distraction. A ball hit over the fence is long gone! Locals may wince as they recall the 18th hole landscape during the club's irrigation renovation a decade ago, but the result is a wonderfully lush finishing hole. With severe sloping on the left side of the green, a two-putt is certainly no gimme. This is a true risk/reward par-5. Thankfully, the 19th hole is nearby!
FORE!
Book your 2021 golf trip with BCgolfguide!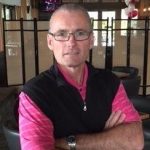 (Erickson has industry experience in Alberta as an off-course retailer and teaching professional, in addition to a 10-year stint in golf shop management in the Okanagan Valley. A freelance writer for over 30 years, Glen has been a member of the BCgolfguide team since 2016.)