For travelers to and from the Okanagan Valley via the Trans Canada Highway and then through Sicamous, there is a cute little golf course  highly visible to drivers south of Armstrong, B.C. and just 20 minutes north of Vernon.
It's the nine-hole Royal York Golf Club.
Like many of these facilities in small communities across wes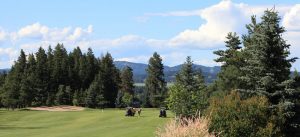 tern Canada, an 18-hole round is compiled by playing the nine holes twice from different sets of tees.
It also wasn't long ago that the Royal York Golf Club suffered an enormous tragedy – a fire that destroyed the clubhouse in 2009. A spiffy new clubhouse was built and is also visible from the highway.
The nifty facility is now in the news again with the announcement from ownership that the property is being sold.
Eventually, the golf course will be closed in favour of a new residential development.
In a story published by Golf Industry Network, you can read about the difficult decision by the York family, which has operated the golf course for 30 years,  by clicking right here.