It's a special place, the Coachella Valley, often simply referred to as "Palm Springs"!
The region is a golfer's paradise, with facilities that range in price to suit all budgets. But really, Palm Springs? Seems like it's all about the weather!
Depending where you choose to stay, or how long you're in the region, you can stick to one area and check all the boxes on your golf vacation wish list. Or, you can tour around the entire valley and explore. There is certainly something for everyone.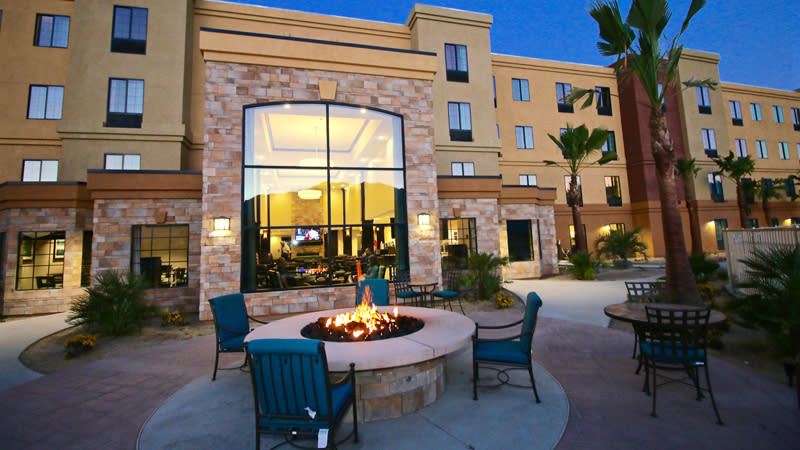 Staybridge Suites Cathedral City
We traveled on WestJet from Kelowna through Vancouver. No flight delays and terrific service all the way! Palm Springs International Airport is such a neat place, a cute little airport that seems to be getting busier and busier every year.
We spent five nights at the Staybridge Suites Cathedral City, about a 10-minute drive from PSP. It's a very quiet location, just slightly away from the beaten path north of Ramon off Landau.
Staybridge Suites Cathedral City: One Bedroom Suite
One of our BCgolfguide partners in the region, we found the hotel to be clean and modern. The one-bedroom king suite was a perfect fit for us. The full-sized refrigerator came in very handy!
Playing golf was part of our trip, but not the priority. We enjoyed a wonderful day on the Resort Course at Tahquitz Creek, a 36-hole facility where regional sales manager Jay Glover shared some interesting insights.
Tahquitz Creek offers an inclusive package – green fees, power cart, breakfast or lunch and  two drinks. We think it's great value!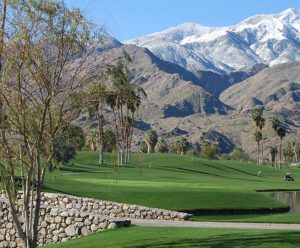 And speaking of great value, Indian Canyons Golf Resort in Palm Springs is an outstanding 36-hole facility.
We really enjoyed the South Course, cart paths only, as the overseeding process has recently been completed. Still, the turf conditions were  terrific and by the end of November, this layout will be in prime condition!
While your in the Coachella Valley: If you fancy a night out  to watch NHL hockey or NFL / CFL football, visit the Beerhunter in La Quinta. The staff know Canadians love their sports!
Shop 'til you drop: Just a 20-minute drive west from PSP, spend a day at the Desert Hills Premium Outlets near Cabazon.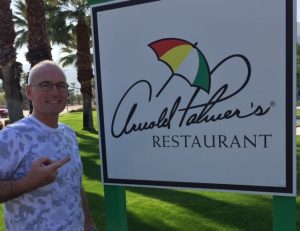 A Piece of History:
For a fine dining experience or a quick bite during happy hour, Arnold Palmer's Restaurant in La Quinta.
Guilty Pleasure: Take a run down  to Old Town in La Quinta and stop by Stuft Pizza Bar & Grill.
Golf – A La Carte: Can't get enough? Over and above your BCgolfguide package, why not squeeze in a quick nine holes one evening at The Lights in Indio? During November, December and January when the days are shorter, extend your day and enjoy a unique experience playing golf under the lights!
BCgolfguide can help it all happen for you! Contact us at 1.877.223.7226 and we can help you to enjoy a buddies trip of a couples getaway in beautiful Palm Springs!