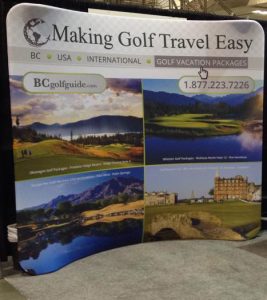 Welcome to the first golf blog for 2017. Be sure to catch us at the Vancouver Golf Show coming up February 18th and 19th at the PNE Forum Building. We will have approximately 50 Prestige Hotel and Resorts golf towels to give away each day. Win a mini Kelowna golf trip compliments of us, Prestige Hotels and Sunset Ranch Golf Course
Following the Vancouver show, we have 3 more on the rooster! Seattle Golf Show is a long established show where we love to visit the emerald city and educate the Pacific Northwest golf crowd all about Golf travel in British Columbia. March 4th and 5th at the CenturyLink Field Events Centre.
The Alberta PGA manages both the Edmonton and Calgary Golf shows, which are March 11-12th (EDM) and March 25-26th ( CAL). Where ever you are, make sometime to attend a show, we would love to see you in person.
We encourage you to follow us on your favorite social media channel(s).
Feb 13th, 2017
Featured contributors include Glen Erickson / Danny Leitch / Ross Marrington and guest bloggers.